This section shows the compliance of all standards validated by Fluid Attacks' at the Organization and group level.
There are two sections: Overview and Standards.

Overview​
Here you can see how the standards are being applied at the organization. The follow information is provided:
Compliance level of organization: This metric shows us an average of how well the organization is complying with the application of standards in general.
Weekly trend: It shows the week's trend that the organization had in applying standards, which can go up, down, or neutral.
ET to full compliance: Estimated time it takes the organization to remediate vulnerabilities.
Standard with lowest compliance: Name the standard that is being least complied with in the organization.
Compliance level of standard: This metric refers to the percentage of compliance with the Standard with lowest compliance.
Benchmark​
All the standards that are validated in Fluid Attacks' are named, where a comparison of compliance with these standards is made between the best organization, the worst, and the average compared to my organization.

Standards​
Here we can see the standard compliance information at the group level. To select which group you want to know this information about, click on the drop-down menu. There it will list all the groups to which you have access.

By selecting the group of interest, you will see the standards that are not met in this group, listing the requirements that have not been met.

You can also download a report of this information by clicking on Generate Report.
When you click on the button, you will get a Verification code.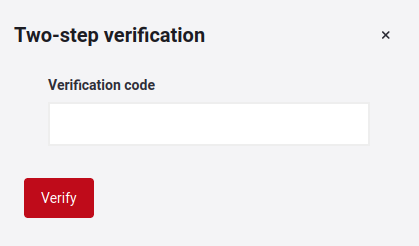 Entering the code will download the report at the Group level, listing the standards that are not applying to your requirements.