Sometimes, a situation may arise for a group that prevents analysts from pentesting part of the scope or maybe all of it. When this is the case, we need to keep track of these situations and manage them, so we can resolve them quickly and efficiently. This is what the Event tab is used for.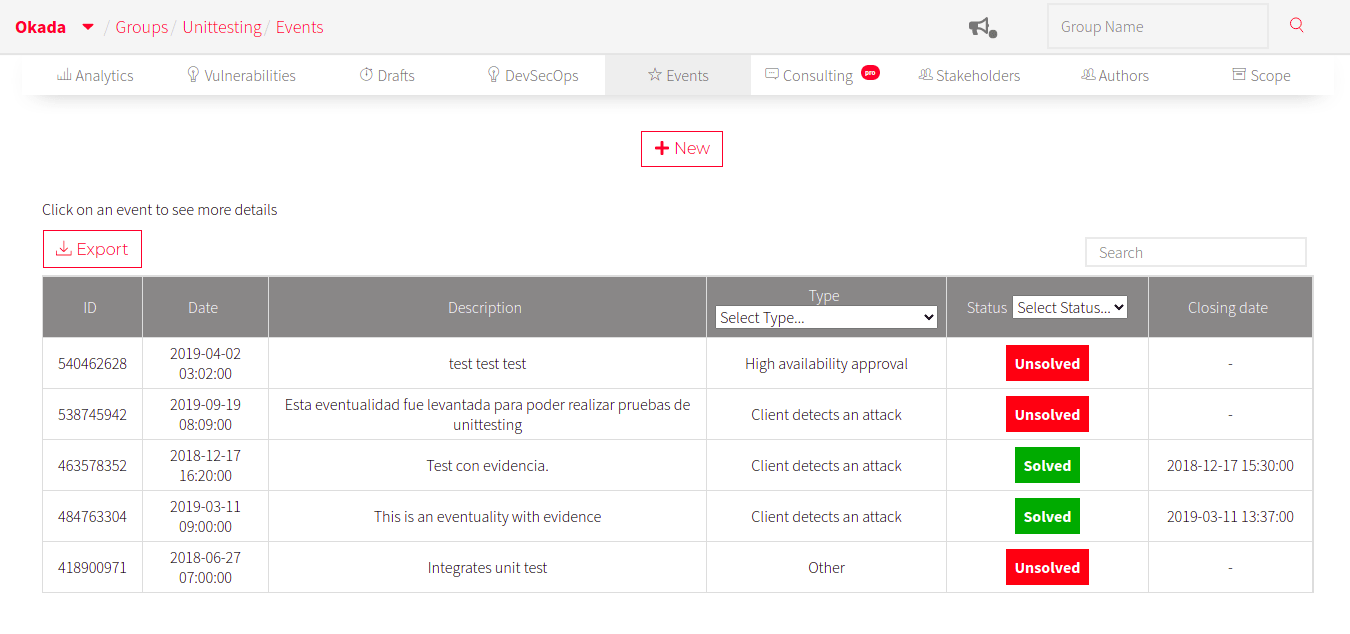 Creating an event
In order to create a new event, you need to click on the New button that is in the Event tab. Then, a pop-up will appear for creating the event.
Here you must enter all the information about the event including:
The approximate date and time at which the event was discovered.
Select the type that better summarizes the event.
The location at which the analyst was when the event was discovered.
Specify if the event affects accessibility to the Environment, Repository or both.
A more detailed description about the event.
The action you were performing before being blocked by the event and what you would do after the block.
Evidence of the event presented in an image or a file.
After the entering the information and pressing the Proceed button, the ASM will create a new event and send an email to all project managers. You can also click on the Cancel button to dismiss the creation of the event.
Closing an event
When a group user notifies that the event has been solved or the analysts find out that they can now access the previously blocked targets with no problems, then it is time to close the event.
This can be done by entering the Event tab and clicking on the event that was solved, then in the description of the event there will be a button called Mark as solved. When you click it, a pop-up will appear.
In here you must specify the date that the analyst was notified about or discovered that the event had been solved, and also provide the number of hours that the event affected the group. With this done you can click on Proceed to mark the event as solved, and now it will appear closed in the event table.